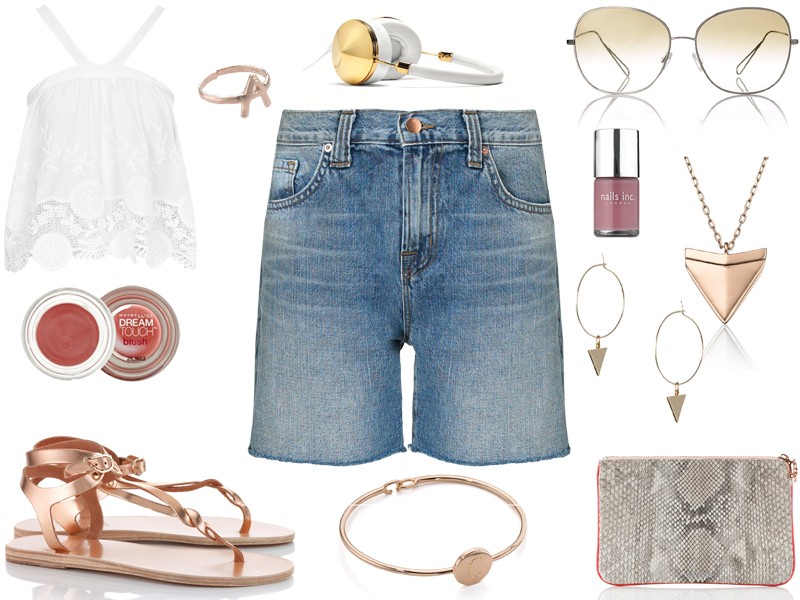 J BRAND
shorts via
Avenue 32
, sandals, bag, bracelet, sunglasses, ring, headphones and necklace also via
Avenue 32
. TOPSHOP top.
I got my first pair of J-brand jeans about a year ago in an outlet mall in the middle of Nevada. They were black waxed ones because 1) they were half price and 2) I was really bored of my Topshop ones losing their shine after two washes. A year later and my J-brands still shimmer like a newly waxed Cadillac (I have no actual idea what this might look like, or if one even waxes a car- but they're shiny is the underlying point) so I'm a happy bunny.
Since then I've bought a couple more pairs to reward my legs for the top standard they do of keeping me upright everyday- but jeans are all fine and easy to style. What about denim boy shorts?
While ideally I'd say don a bikini and roll around in some sand/salt and then pretend to be Australian, that is arguably not the most practical styling option. So instead, I decided these J-brand shorts needed a little bit o' girl. Cue rose-golds and metallics, lacey shirts and pinky shades of make-up.
Boy shorts definitely run the risk of looking very bearded hipster male but while that isn't a bad thing, it maybe isn't everyone's look. I can't grow a beard, so it certainly isn't mine. The typical 'girlishness' of the outfit is tempered by the laid-back I-might-have-stolen-these-from-my-boyfriend-but-I-don't have-a-boyfriend-so-I-actually-bought-them low rise cut offs that I really think might end up in my wardrobe soon.
Hold me back.